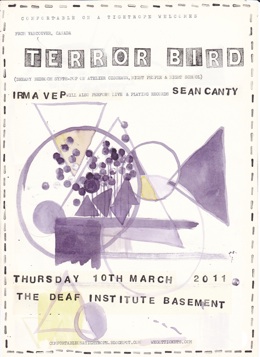 Exciting times. Today is Terror Bird Day: Night School's Terror Bird 7" Outside / When I Woke Up is out now – order, along with the Golden Grrrls' 7", here. The band are currently preparing to arrive on these shores for some great shows with good friends. Here's the dates:
March 8th – Cargo, London w/ Former Ghosts
March 9th – The Haunt, Brighton (TBC)
March 10th – The Deaf Institute, Manchester w/ Irma Vep
March 11th – 13Th Note, Glasgow w/ Golden Grrrls + Tangles
March 12th – North Hall, Spencer's Yard, Leamington Spa w/ Please
March 14th – Windmill, Brixton, Laissez Faire Club
March 15th – Fat Fox, Southsea w/ The Lowest Form, Gaea Girls
Night School is now on Twitter. Announcements for the next Night School releases are imminent.